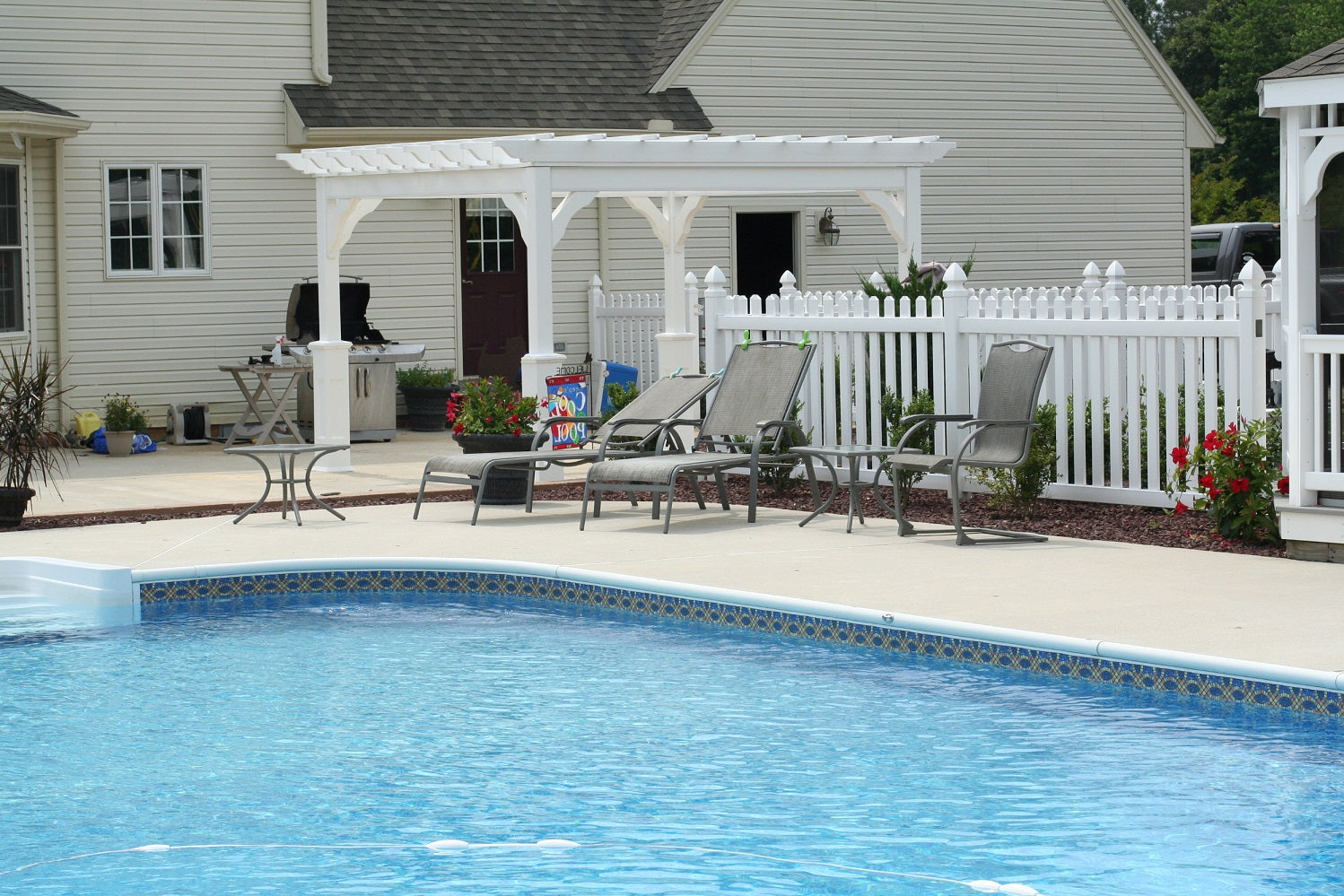 for the Ultimate in Outdoor Living.
Time-honored, Wood & Vinyl Pergolas
The refreshment of nature is waiting—in your backyard. All you need to unwind and enjoy family and friends is the time-honored pergola.

The most open and airy of outdoor structures, pergolas block none of the gentle, refreshing breezes you want, while letting in a welcome portion of the sun's warming rays.

Pergolas are adaptable. For a more private area, side curtains are attractive and easy to add. For more protection against strong sun or light rain a variety of covering options are possible, from fabrics to fiberglass to retractable shade canopies.

When woven throughout the top beams, cloth coverings are both beautiful and functional. Cover a pergola with vines or lush greenery and you have an eco-friendly solution for keeping out unwanted sunlight and staying dry in mild showers.

When it comes to style, you can choose from our classic and contemporary designs in a range of looks that will match your home and personal taste. Plus, our wide variety of sizes means you'll find one that perfectly fits the space you have available.
Also view our Gazebos and Pavilions
Vinyl Pergolas
Today's vinyl is a high quality product that's strong, durable and beautiful. The best part? Very little maintenance is required to keep it clean and fresh looking year after year—just mild soap and water does the trick. Plus, because our vinyl is made from 50% recycled materials using nonpolluting manufacturing methods, you can feel good about more than just the beauty of your vinyl pergola... You can know that you're helping protect the environment, too.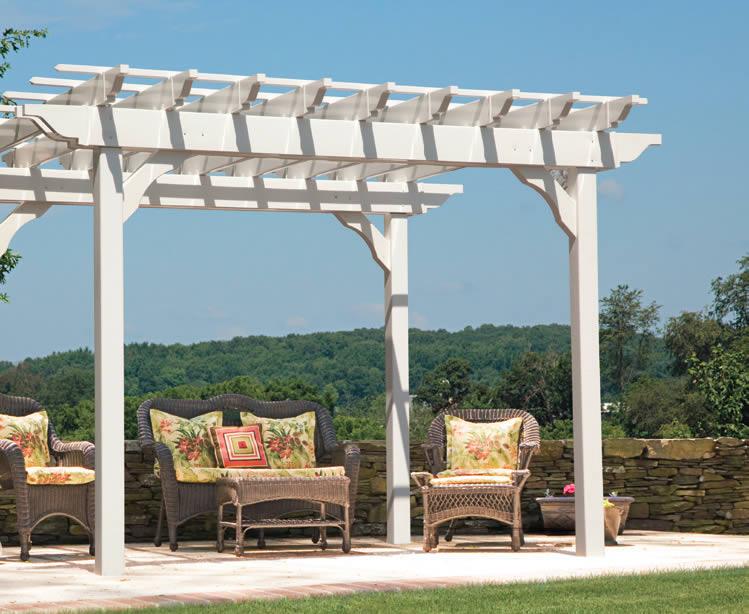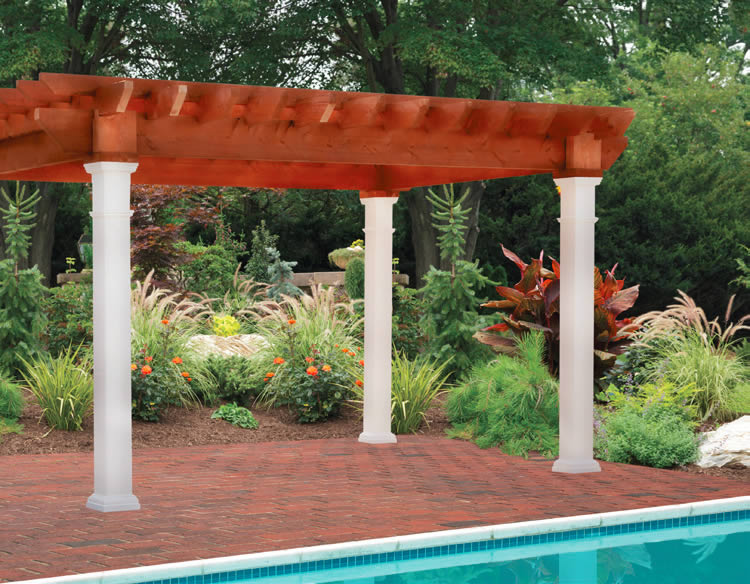 Wood Pergolas
Wood pergolas, like their vinyl counterparts, are built to last. Made by expert craftsmen
using pressure-treated woods with protective stains or paints, they provide years of worry free enjoyment. Create the perfect outdoor retreat—one that will stand up to the elements season after season, while adding value to your home. Invite your loved ones over, and enjoy.
Commercial Options
Let's start off by saying, you aren't limited to a few standard sizes and designs. There are a wide selection of sizes and models that can be built to your exact specifications.
Additionally, with our wood or vinyl options, variety of support columns and styles, you can let your imagination run free in creating your perfect outdoor commercial project.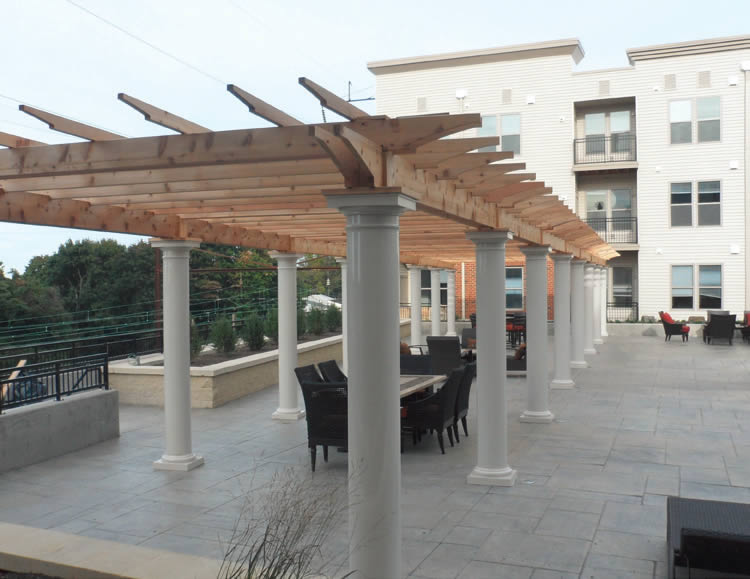 Contact us
Interested in our Time-honored, Wood & Vinyl Pergolas? Call (717) 442-8655 or fill out the form below.