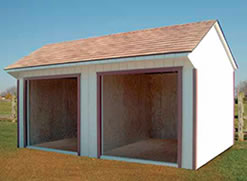 10x20 Run-In Cottage
Interested in options and price for a 10x20 Run-In Cottage?
Call (717) 442-8655 or fill out the form below.
---
Give your animals the luxe treatment they deserve with this 10x20 Run-In Cottage! Featuring a rough door opening, vents, and 4' high 5/8 plywood kick board to keep 'em comfortable, plus an extra stall with rough opening and kick board for extra pampering. It's the perfect blend of practical and posh. Your critters will love it!
Standard Features:
Rough Door Opening
No Floor
Vents
4' high 5/8 Plywood Kick Board on All Inside Walls
Extra Features:
Extra Stall with Rough Opening
5/8 Plywood Kick Board to Square Inside
Prebuilt Delivery Options
Let us create your storage solution in our workshop and we'll deliver it to your prepared site—ready for you to use and enjoy right away. Using the latest equipment and technology to place your shed perfectly, safely and quickly, our team of shed placement pros will get the job done right.